So as I wind down from a long day, I sit at my puter to complete the masthead
I am working on for
Crooked Path
, only to find something has happened in the 'emailing file' process from work to home. Alas, there is nothing here waiting for me. Does anyone know, besides
Jen
and the mighty
SkyQueen
, how FUCKING FRUSTRATING it is to have an idea in your head and not be able to go with it because your files are NOT WITH YOU.
Hmf.
Well, so I emailed some pro guy at work to tell me how to log into our exchange server and retrieve the email I sent to myself so I can work on it and ease my brain (cause it seems it wants to punch me in the eye) but while I wait - why not tell you about the night of our anniversary - which was Wednesday, incase you all didnt catch on to the last post....
Earl himself planned a romantic picnic in the park. He wanted a late evening one so we'd be the only ones there. Apparently, as long as you have a pole in the water, you can stay past hours. So he cast a stinky lure that no fish would want in that creek, and we gorged on brie, wheat thins, champagne, strawberries and grapes until after 9pm.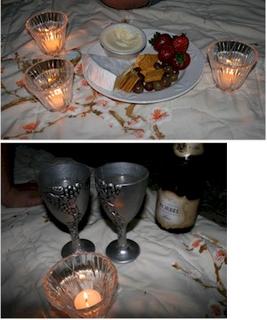 We also had shrimps, filet mignon, and pork tenderloin to fondue, but the wind kept blowing out the sterno so ultimately we brought the main course home to eat.
But what a wonderful night that was. It seems that we had to sacrifice the wedding day to get perfect anniversary evenings. Knock on wood. Wednesday night it was clear, warm, and gorgeous. See those goblets?
Dereck
and
Jen
gave those to us on our wedding day :) And note the 3 candles (3 candles for 3 years - hey, it was easier than 16 for the 16 years we've actually been together.)
Usually we white trash it out and go to Nazareth Speedway to watch Nascar (as we get free tickets every year the same week as our anniversary). But this would be the first year the Speedway has been permanently shutdown. So no more champagne and strawberries on the tail gate. We had to opt for an actual park and be somewhat respectable rednecks.
But we still ate strawberries...
Look at those eyes and those cheekbones. Isn't he
hot
??!!
Here are Earl's pictures of me...

Me drinking.
Me being drunk.
Me trying to be sexy with a strawberry.
Me being super sexy and really stupid with a strawberry.
And my pictures of him...

What can I say. He can do no wrong in the eye of the camera.
That's Earl's sign for "stop taking pictures"...
And here we are togethe
r...
Ahhh.
Earl being scary.
XXOO
Aint we a pair.
So that was our anniversary night. It was so nice laying under the stars and listening to crickets instead of tractor trailers. When we finally got home, we fondued up the rest and had a great delayed dinner.
Hope you enjoyed our anniversary.
Hopefully next time you check back I will have my files and be happy again. You know how it is when you want to finish something and are stuck waiting for the info. It sucks. But at least I had quality stuff to share with you. Anniversaries are important days because that means another year has past, and we all know, each DAY is precious. So a year - well, that's
just phenomenal.


Your mission today - Don't forget to tell the one you love how much they mean to you. Tell them everyday.