What has become of me?

I never thought I'd see the day when a new vacuum would rock my world, but it has. This weekend I finally had to replace my old vacuum of 10 years, which I think was a pretty long life for an appliance. I went to my beloved Walmart, knowing they could help me find an affordable new addition to our home.

And there she was, standing upright in all her bagless glory, all 12 amps of her.

I knew when I first laid on her 15" wide cleaning path that she was the one for me. Well that, and her $58 price tag. Yes, she was perfect. Perfect and affordable. What more could you ask for? Glad you asked! How about a dusting/upholstery tool, a crevice tool, and a 15 3/4" extension wand!

I was pleasantly surprised when I place her in the cart at how light she was. And no more bags to buy!! How wonderful for the both of us. What's this? She has washable filters too?? Oh my, I'm in love.

I could hardly wait to vacuum something.

We rushed home in anticipation of two weeks worth of pet hair... And with two dogs, three cats and no way of cleaning it up, may I say, we were not disappointed. There were glorious mounds piled everywhere.

I opened the box and started to assemble her. It was a matter of standing her up, tightening two screws on her handle, and attaching her extra long wire reinforced stretch hose... And we were ready to start sucking.

That's exactly what she did and she did it extremely well. Better than any vacuum I've ever used. It's official. She's not all looks, this baby kicks ass.

I could now vacuum the carpet, see a dust bunny hanging on the wall, whip out her hose and suck it up, and continue on my way without stopping or batting an eyelash.

What about those ever dreaded stairs? With this vacuum, they are no longer a hassle. The extra long power cord allowed me to only have to use ONE outlet to do the entire stairway. You should have seen her little face. She had so much fun on those steps, especially with a cleaning surface type specifically designed for stairs. She also has one for Upholstery AND one for Bare Floors - perfect for our Pergo family room! And just when I didn't think it could get any better, the spot light on her helm was like a beacon from heaven, enlightening all the little devils hiding in darkness.

When time came for her to purge, the Easy Empty dirt container with exclusive Lock 'n Seal lever made that a 5 second chore.

I was so proud when we were finished. What a team we were, and the carpet looked brand new! I even had to bring her out to show my neighbor last night. I figured anyone who has to take care of a home could appreciate the glory of this little lady... That, or he now thinks I am officially nuts.

What is the name of this dream machine, you ask? Why, it's Bissell!
Bissell PowerForce® Bagless Upright Vacuum, to be exact.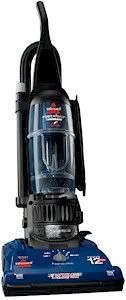 Aint she just the pertiest thing you ever did see?